Miss Universe 2016 Iris Mittenaere is in Indonesia. The beauty travelled to the Asian country right before the finale of Puteri Indonesia 2017, and attended the final as one of the Special Guests. Since then Iris has been exploring the scenic beauty of Indonesia.
Recently, Iris visited the Garuda Indonesia Training Center (GITC). Iris explored the pilot and cabin crew training facilities during her visit to Garuda Indonesia Training Center (GITC) in West Jakarta on April 3. In addition to taking a good look at the pilot and cabin training facilities, Iris also took a look at the "social grace" training class and wet drill training for crew members. The beauty queen also tried the flight simulation facility for pilots in training.
Impressed by the training center, Iris expressed her excitement and said, "After seeing the training processes for the cabin crew, it's not surprising that Garuda Indonesia has been able to maintain its 'World's Best Cabin Crew' achievement for three years straight."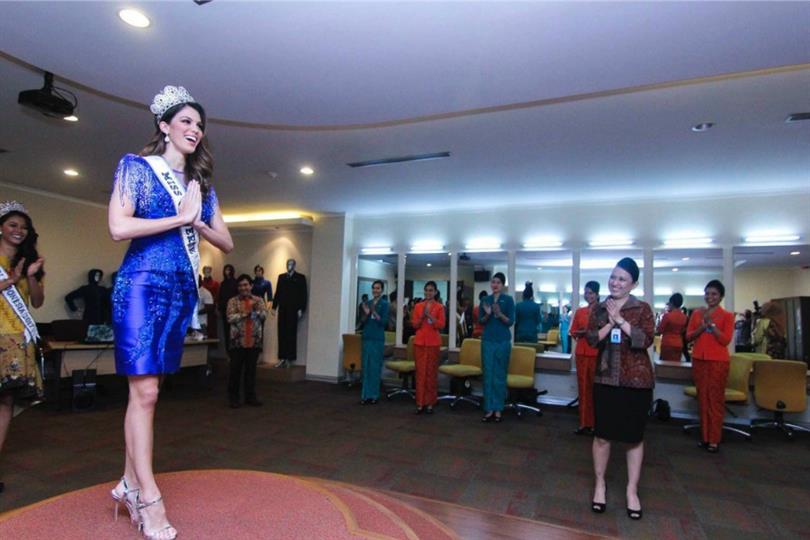 Iris Mittenaere was accompanied by the newly crowned Puteri Indonesia 2017, Bunga Jelitha. The visit was organised by the Puteri Indonesia Organisation in association with the Garuda Indonesia Training Center.
Previously, during her Press Conference, Iris has mentioned that bringing the Miss Universe pageant to Indonesia will bring an opportunity to tell the world that Indonesia is inferior to none, when it comes to beauty and fashion industry. Also, this will be a great way to promote the rich cultural heritage of Indonesia throughout the world.
Iris Mittenaere was crowned Miss Universe 2016 at the conclusion of the finale held on 30th January 2017. If reports are to be believed, Miss Universe 2017 pageant is scheduled to be held in December. However, nothing has been confirmed by the Miss Universe Organisation yet.