Miss World Stephanie Del Valle was welcomed by Mayor Rahm Emanuel to the great city of Chicago at city Hall yesterday. Stephanie was given a tour of City Hall by the Mayor's staff before the meeting. They spent their day sightseeing.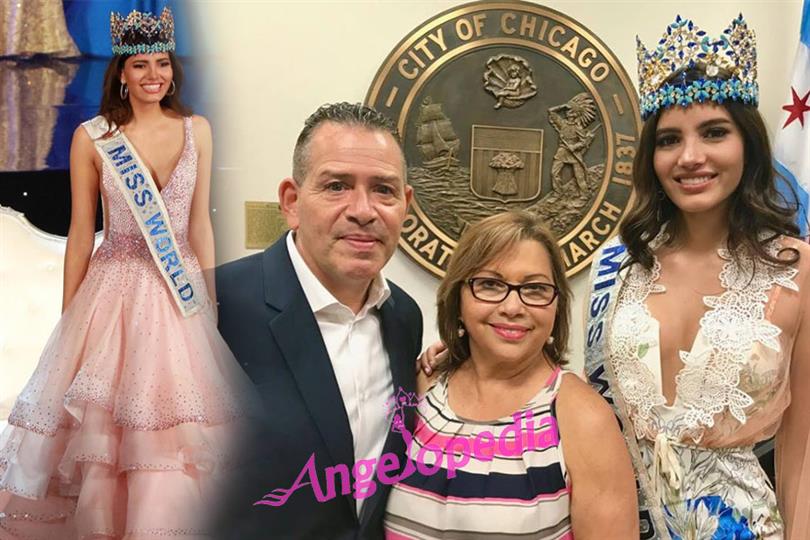 On September 30, 2010, it was announced that Rahm Emanuel would leave his post as the White House Chief of Staff for President Barack Obama and run for the office of Mayor of Chicago. He was elected as the 55th Mayor of Chicago in May 2011. The Mayor took some time out from his busy schedule to meet Miss World.
Stephanie was officially welcomed by CEO of Imagen Marketing Consultants, Founder and Co Principal of Latino Fashion Week Ceasr Rolan and Alderman Milly Santiago who is the current Alderman of the 31st Ward of the City of Chicago along with the mayor.
"Thank you for coming I'm sorry I don't have more time. I hope you enjoy our great city" he said. Stephanie was delighted to the meet the Mayor before continuing her busy day with a visit to Lurie Children's Hospital. She looked amazing in her white elegant dress. She wore her sash and beautiful crown as well during the visit. She also played 'Wii sports' with 7 year old, Luca, a young patient at the Lurie Children's Hospital.
after taking walk in the city, she visited to Lurie children's hospital where the hospital has a permanent measuring wall so that the children can see themselves grow. She posed with the wall and looked like she has been eating all her vegetables.