Miss World 2016 Stephanie Del Valle officially opens the 35th Annual Puerto Rican Festival in Chicago. Stephanie along with the 500,000 other people are expected for the finale at Humboldt Park on Saturday.
Stephanie said: "What an honour to be here, celebrating all that is great about my country".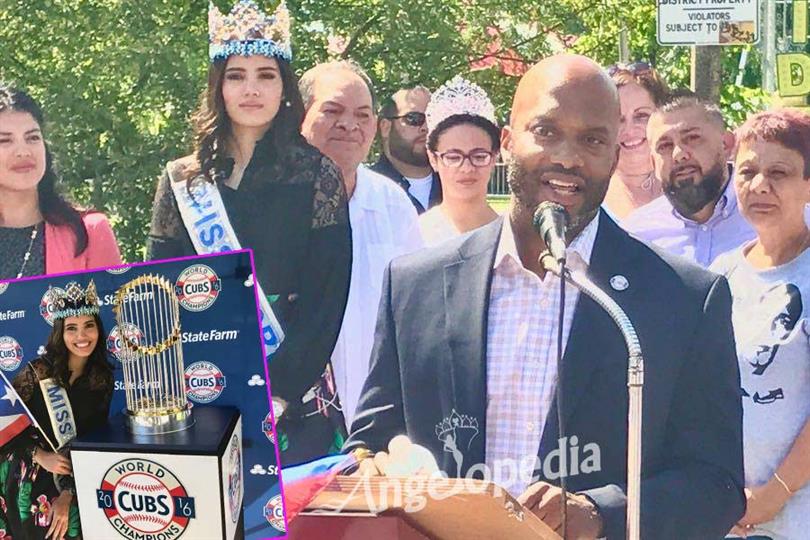 "Tito" Medina President of the Festival, Veronica Castillo and Nereida Ayala represented the city of Chicago as a part of the PR Parade Committee.  They also gave welcome speech on the coming of Miss World 2016, Stephanie. Everyone seemed to be excited on the arrival of gorgeous, Stephanie Del Valle.
She looked adorable on the event with light make up and amazing hairdo. She was captured while posing with Chicago cubs World Series Championship trophy. She also promoted the festival with Cesar Rolon, CEO of Imagen Marketing Consultants, Founder and Co Principal of Latino Fashion Week.
The Puerto Rican Festival & Parade, or Fiestas Puertorriqueñas, is one of the largest Latin events in Chicago and brings four days of fun, food and festivities to Chicago, Illinois. With live music, authentic Caribbean cuisine, arts and crafts, carnival rides and more, the festival offers something for everyone to enjoy and have fun.