Miss International 2016 Kylie Verzosa, who is now in Japan, is successfully working towards fulfilling her duties as the reigning queen. Kylie, who is also on a much needed vacation, was spotted spending her time touring around Japan with Miss Japan International 2017 Natsuki Tsutsui. They went around Kyoto—Kylie's favorite Japanese city—explored Tokyo Disneyland, and visited the local market to try Japanese delicacies like mochi, red beans and matcha.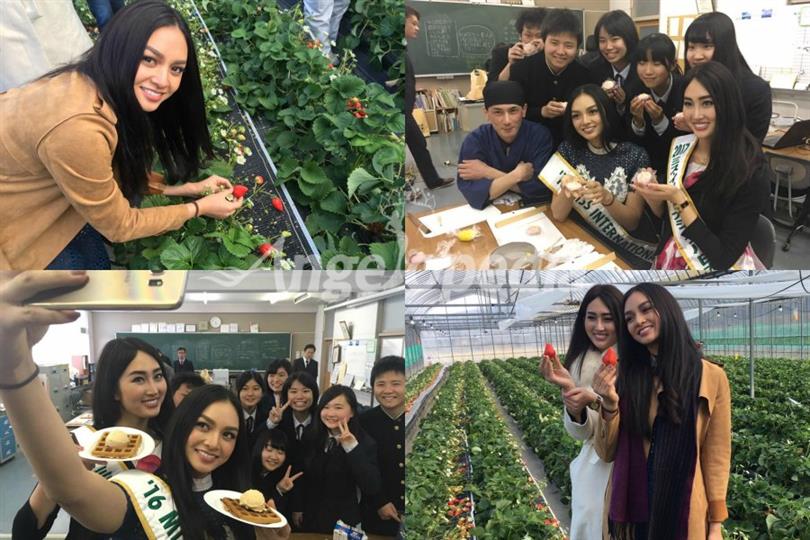 Also Read : Kylie Verzosa holidaying with Miss International Japan Natsuki Tsutsui
Apart from sightseeing and vacationing, the two gorgeous beauty queens also took out time to make few visits for their advocacies. Kylie Verzosa and Natsuki Tsutsui were in Tokushima prefecture, almost 600 km away from Tokyo. On the first day of their stay they enjoyed picking Strawberry of Tokushima speciality. In the afternoon, the two beauties met the school students in Tokushima Commercial high school. The children are working on outstanding school project aiming to launch international business between Cambodia and Japan.
Kylie and Natsuki also took out time to learn how to make sweets in Japanese traditional style, with Cambodian ingredients. Kylie, who is also making a name for herself in the fashion industry, recently posed for local retail brand Bayo with designer Francis Libiran on the occasion of the company's 25th year. Miss International 2016 Kylie Verzosa's advocacy focuses on illnesses such as depression, anxiety and bipolar disorder. Kylie also attended the 43rd Annual Convention of the Philippine Psychiatric Association (PPA), and during the event, Kylie mentioned that Suicide is currently the second gravest cause of death for ages 14 to 29.
Kylie has started her journey of working towards her advocacy. 24 year old beauty queen and Filipino model, was crowned as the new titleholder of the Miss International pageant from among delegates who participated in the beauty contest from various countries from all over the world.