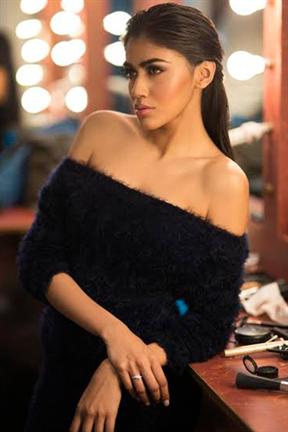 Apeksha Porwal, the newly crowned Miss India Delhi 2015 and the finalists for Femina Miss India 2015, is a vivacious and chirpy beauty, who at a tender age of 16, won the MTV Teen Diva 2009 and also represented India at Miss Teen India International 2009 in Chicago. The effervescent beauty is also actively involved with a social venture, Janta Meals, a startup that sells affordable and nutritious food in slum areas. She loves to travel and is fearless fantasist.
In an interview with our correspondent, the vibrant beauty Apeksha Porwal, shared her thoughts, experiences, and aspirations in the world of pageantry. Below is the transcript of her interview-
Q. How do you feel after winning Miss Delhi 2015?
The feeling after winning Miss Delhi 2015 was incredible and didn't sink it for quite some time! I had been preparing for it for a while and to finally win Miss Delhi and secure a position in Top 25 Miss India 2015 was a great feeling of relief and excitement. At the same time, I realized that it was a small step in the direction of the final coveted crown with still a long way to go!
Q. What is your motivation behind being a beauty pageant aspirant?
For me, Miss India was a childhood dream. It was a dream I saw with my family. We would sit together every year and watch Miss India when it was telecast on TV and I knew that I wanted to be there. When I represented India at Miss Teen International, 2009 in Chicago, I realized what an incredibly proud feeling it was to represent my country. Being Miss India is a true honour, one that stays with you for life. Also, Miss World is an ambassador for goodwill in the community, something that is unique to this pageant which I respect and want to be a part of.
Q. How confident and prepared you are on winning Miss India 2015 title?
I have prepared a lot for Miss India 2015 and left no stone unturned. The competition is going to be extremely tough and I am just going to focus on myself and give it my best shot.
Q. What is your biggest strength which you think can make you win Miss India 2015 title?
Out of all humility, I think one of my strengths is that I am well spoken with good communication skills that lets my personality come across. Miss World looks for a girl who can be their ambassador, who has to speak at major international platforms. She needs to be someone who is genuine with a great personality. I would like to believe that I have these skills while at the same time work on them and make them better.
Q. If you can choose which designer will design your gown for Miss India finale, who will it be and why?
I loved the gowns Mandira Wirk had designed for the Delhi pageant. She would make some beautiful pieces for Miss India as well. I also love Falguni and Shane Peacock and they had done a wonderful job on Koyal's Miss World gown.
Q. Who is your favourite Miss World and why?
My favourite Miss World in recent years was Megan Young. She is a beautiful person in and out and that easily shines through. She is someone who gave meaning to 'Beauty with a Purpose' and made her year count. What appeals to me most about her is how humane and humble she is, and is someone who can genuinely make you like her.
Q. What is your idea about the 'Beauty with a Purpose' concept of Miss World?
I think that's one thing that appeals to me about Miss World the most, its concept of 'Beauty with a Purpose'. Miss World is such a strong influence for many young girls. By being associated with a cause and working for it through her year and even after, she can set a wonderful example for them. Also, I believe that external beauty is only temporary and it is the work that you do that makes your beauty timeless.
Q. What is your view on doing away with swimsuit competition in Miss World?
I think swimsuit is a good way of judging the overall physique of all the contestants. I personally believe it is important to be fit and healthy. However, in the light of increasing issues dealing with body image and the belief that it objectifies women, Miss World had its fair share of reasons to cancel it. Personally, I think it's a great decision because it shows that they focus a lot on the contestants' personality.
Q. Why do you think India has not won Miss World title for last 14 years?
Miss World is an incredibly tough title to win among the best of the world and our Miss Indias may not have won, but they have definitely done us proud at the pageant. It is easy to sit back and say that they did this or that wrong while they actually give their 100%. Maybe a greater focus on the personality and communication skills would also help while preparing.
Q. What has been your experience so far in the world of pageantry and modelling?
I first stepped into pageantry at the age of 16 upon winning the title of MTV Teen Diva 2009 and represented India at Miss Teen India International, 2009 in Chicago. I loved the experience, the thrill of being on stage, the photoshoots, the sub-contests! I also did some modeling and won Vero-Moda/Only Model Hunt in 2010. I however took a break from it to focus on my studies and graduation. The latest one was being in Miss India Delhi and now Miss India. I am simply loving it. 🙂
Q. If you were not a model, what alternative career you would have chosen?
Presently, I am not a model by profession. Upon graduating with Economics honours, I started working as a business developer for social startups (businesses that focus on social change). Shortly after, I came on board Janta Meals, a startup that sells affordable and nutritious food in slum areas. I enjoy modeling and take up assignments as they come. I will again take a career decision seeing what opportunities knock on my door after Miss India.
Q. Tell us something that most people don't know about you?
I used to play chess as a kid and represented my school and district at chess tournaments. My favourite subject is Mathematics and I love algebra and trignometry! I majored in Economics and used to love writing exams. Some of the reasons why I can come across as quite a nerd sometimes! 😛
Q. What is the one thing you would like to say to young girls who aspire to be Miss India?
I believe in one thing strongly – there is no shortcut to success. You need to work extremely hard and push yourself. Always remember that you are your best judge and you know where to improve. Having said that I would also say India's best come to the pageant and it's a tough win. So give it your best and whatever the result may be, enjoy this amazing journey. It'll stay with you forever.
Please do like her Facebook page and support Apeksha Porwal for Miss India 2015