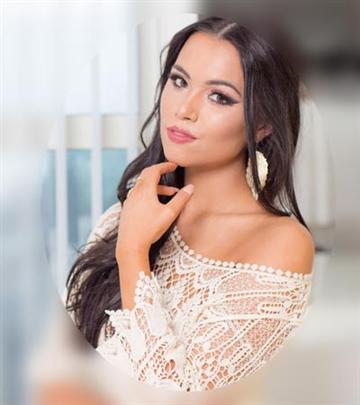 Possessing  a sweet and friendly nature, the beauty loves to help needy people. Deborah is a pageant veteran as she has already won two coveted beauty titles – one is Miss Beauty of Zeeland in 2015 held in October, and another one is Miss Organic Tan 2015/2016.
Let's grab a better idea of what all she has to say as one of the strongest contenders of Miss Earth Netherlands 2016.
Q. How do you feel after becoming one of the finalists of Miss Earth Netherlands 2016?
In one word "AMAZING". It's like a blessing that they have given me this opportunity. It's a chance to get my message across the world. I'm just so excited about this pageant. Also, I am very grateful for the organization that truly believes in us and support us, that means a lot to me.
Q. Who did you first inform that you were going to be an official candidate of Miss Earth Netherlands 2016?
Actually, I was cooking dinner with my Mother. She knows me so well while reading the message she already felt my enthusiasm, kept asking me what was going on. At that time my father came into the kitchen, curious as to what had happened. The news came unexpectedly, so at first they stared at me a few seconds, followed by a shout of joy. They hugged me for a thousand times, such a happy moment. If it had been different, I would still inform them first. Along withmy sister, they are the most special people in this world.
Q. Every great initiative branches off from a motivation, who was your role model behind stepping into the world of beauty pageants?
I think women in general have inspired me. There are so many beautiful, strong women in the world chasing their dreams, standing up for themselves . This has let me step out of my comfort zone. I watched all these beauty queens using their beauty inside and out for a good cause. Helping other people and better the world. I would love to try that too.
Q. How are you preparing yourself for Miss Earth Netherlands 2016 voyage? What are your prime plans?
I want to do everything with a positive thought and a kind heart. I think one of the important preparations is to inspire the people around me,  in order they become eager to help. To be the best of yourself. Trying the best u can. Every day I'm learning about the possibilities to create a cleaner world, to stop global warming and climate change. I want to know everything we can do so that I could teach this to other people. Also I learn about other cultures because I think that if you want to bring a message in to the world you must have the understanding of different cultures, you should be able to empathize with all people. I think I can be someone you can drop in any country and I will always be able to adapt myself and can find my way with the population. I want to improve this by knowledge of all cultures. And of course I am living healthy doing a lot of exercise and eating only healthy things. Training my catwalk skills and my presentation.
Q. What would your Environmental Advocacies highlight?
I think we should educate people, make them interested again, teach them how important the environmental issues are. I believe in the good of people. Starting by teaching our next generation how to create a cleaner an  healthier world. Inspire them to take good care of the world of nature. I think they are our future. And if we work together we can make a difference.
Q. According to you what does it take to be an Earth Warrior?
A source of inspiration, who was knowledge of her goals in helping the earth. Someone who is passionate about helping the earth. Who has the persistence to keep going until she reaches her goals. You have to be confident that you can change the world. Your mission should be creating a healthy earth.
Q. How confident are you on winning the Miss Earth Netherlands 2016 crown?
I think the other girls are all beautiful, they are all special in their own way. And I think by willing to help the earth, it all makes us winners already. I hope I proved that I've shown commitment and developed myself. I think what makes me different is that I can emphasize with all people u can place me in every country and I will find my way. I believe that I can bring my enthusiasm on to other people. I am eager to learn, and I would never place myself above helping others or helping the earth. I am a hard worker and will try to be the best of myself. I hope that is what the organization is looking for.
Q. What according to you defines femininity? Who is the most treasured female figure in your life?
I think for me femininity is strength, a strong character and inner beauty. Next to that caring and loving. The most treasured female figures in my life are my mother, my sister and my best friend. They build me up, put my insecurities to sleep. Tell me I'm worthy. They are a light in a too often dim world. Admire all women who build each other up instead of downwards.
Q. If you wish to write an autobiography, what would be its last sentence?
Live your life to the fullest.
Q. If you had to change one thing in your past, what would it be and why?
I wouldn't change anything. I don't believe in mistakes only in lessons.