Crafted with the goodness of sugar and just the right touch of spice, combined with everything nice…. This is exactly how we would define the Miss World Malta 2015, Katrina Pavia. Katrina with her sunshine smile and entrancing eyes makes you skip a heartbeat whenever you look at her. Katrina, who was crowned on May 2' 2015 at the Royal Piazza Theater in the capital city of Valletta is not new to the glamorous world of pageants. Her beauty is like a symphony of joy and bliss, which one cannot resist but admire.In an interview with Angelopedia, the beautiful Katrina Pavia shared her thoughts, experiences, and aspirations in the world of pageantry. Below is the transcript of her interview…
Q. How do you feel after winning the title of Miss World Malta 2015?
Elated!  For the Beauty-Competitions- Minded Community here in Malta, Miss World Malta Competition is the Ultimate…comparable to the Eurovision Song Contest to the singers.
Q. What was your inspiration behind stepping into the glamorous world of Beauty Pageants?
I used to hide behind my mum whenever we met other people. I started modeling and drama lessons at the age of 13 in Gozo against my will. My parents enrolled me to improve my socialization skills as I was very shy and lacked self confidence. Then my modeling instructress suggested I participate in a local beauty competition and I won! Then I enrolled in another competition held in Malta this time – Miss Maltese Beauty and I won. By then I was really and truly hooked and simply could not stop! At age15 I went to China all by myself to take part in Miss Bikini of the Universe where I placed 11th out of 65 international beauties. Off to China again that same year to participate in Miss Model of the World where I won the title Miss Best Model in Evening Gown out of 85 international contestants. I took part in Passion for Fashion in Jo Squillo's TV Moda twice. In 2007 I was first runner up in Miss World Malta and also first runner up of Miss Bikini of the World held in Turkey. I was also 2nd runner up in Miss Princess of the World in Czech Republic. Then the best feather in my cap so far: in 2010 I won the title of Miss European in a competition held in Belgium. It was a fantastic experience and the wonder of it: the results were announced on 10.10.10 and I was the bearer of no 10! Jackpot!  Besides being nominated for 7 years in the Malta Fashion Awards for Best Photo Model and/or Best Female Model, I won the 2009 edition for Best Photo Model and that of 2011 for Best Female Model. I was the main character in the short film "Katrina" which won 4 awards. I have compared several prestigious concerts and presentations and have taken part in numerous fashion shows modeling clothes, shoes and jewels for various fashion houses and featured on the front cover of several periodicals and in adverts both in magazines and on tv.
Q. How confident and prepared are you for the Miss World 2015?
I am doing my homework well, preparing myself for all the tracks that make up the competition. Mainly this is a Beauty with a Purpose competition and the Purpose I have adopted is not just for the sake of the competition, but to really make a change in the lives of the persons involved.
Q. What is your biggest strength which you think can make you win the Miss World 2015 title?
Being just myself….meeting challenges head on.
Q. Who is your favorite Miss World and why?
Each and every Miss Worlds  to date is unique in her own way, but as everyone knows one always tends to have this particular 'soft spot' and for me  both Aishwarya Rai of India  and Ivian Sarcos of Venezuela are that much more favourite…  they are both down to earth, great personalities and outstandingly beautiful!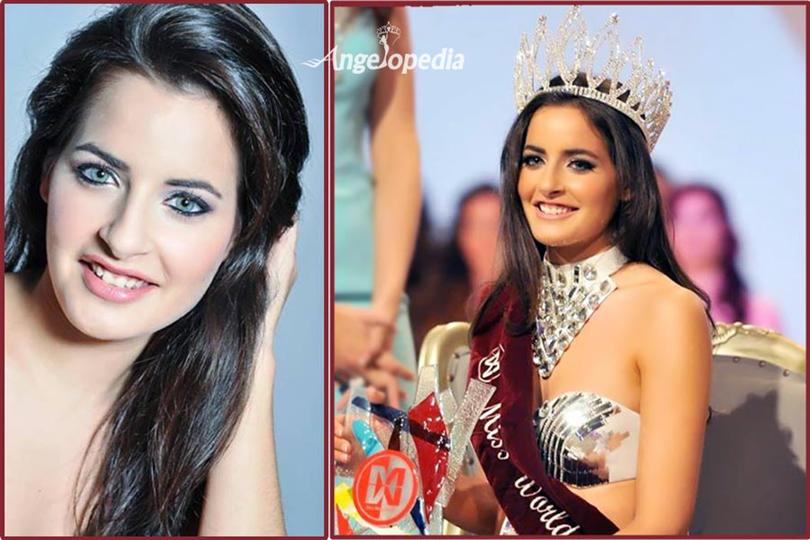 Q. What is your view of doing away with the swimsuit competition in Miss World?
It is in keeping with the title, this is not just external beauty, it's about personality and what one is ready to do to enhance other less fortunate people's lives.
Q. What are your hobbies and interests?
I have been collecting sea shells and pebbles that fascinate me from a very young age. I love swimming and snorkeling, taking care of my adorable pets and watching movies.
Q. If you wish to write an autobiography, what would you title it as?
"Everything Happens for a Reason."
Q. One thing about your country that you would like to share with the entire world?
I know this is the standard reply but in my opinion nothing can sbeat this…Our clear blue Mediterranean Sea!
Q. What is your Beauty Philosophy?
Everything and everyone has that special beauty…one simply has to look hard enough to see it.  It is important to appreciate one's own natural beauty and to make the most of it.
Q. A day in Katrina Pavia's life… How it goes from dawn to dusk?
Every morning I  helpfeed our numerous pets and see that all is well with them.  At the moment I'm spending the rest of the morning involved in my 'Beauty with a Purpose' project till mid day. Then in the evening I go to work in a jewelers' shop as a visual merchandiser and practice gemology…another fascination of mine. Then back home and it s dinner time!
Q. What do you think is the most fun part of being in the fashion & modeling industry?
The variety of places and different people one gets to meet…being with those who have the same passion and so are on the same wavelength as yourself.
Q. If there were no rules in your life for a day, what all would you do?
Bring back Grandma Lucy from heaven and do what she has always been passionate about, sewing together.
Q. Precious or Priceless? What would you choose and why?
They both mean that something has extreme value.  I would go for Precious as it invokes sentimental feelings.
Q. Any message for your fans on Angelopedia?
Always listen to YOUR HEART and live life as YOU wish and not what others wish for you!