Adya Niraj, who is often been termed as the "Megan Young of India" was crowned as the runner up at Femina Miss India Kolkata 2016. She is now vying to be the next Miss World India. This exquisite beauty has been the ruling sensation of many pageant enthusiasts in India. Currently the student of law, the gorgeous and dainty diva has a lot of things planned for the coming voyage. Lately, we got a wonderful prospect to interview this beautiful diva, wherein she shared some of her biggest dreams, passion and plans in the journey of Miss World India. Have a look!
In an interview with Angelopedia, the stunning Adya, shared her thoughts, experiences, and aspirations in the world of pageantry. Below is the transcript of her interview…
Q. The world celebrates you as a newly crowned beauty queen but would you like to give us a glimpse of your veiled personality?
Firstly, I would like to say thanks to the Miss India team and all my supporters and well wishers for giving me such an honor and appreciation. Honestly, I couldn't have made it without you all. I am a simple person at heart who dreams really high. I am not afraid of dreaming and working hard to pursue my dreams. Also, I really appreciate all the advices and suggestions I get because I know that however successful I may become, I can never be perfect. There is always scope for improvement and learning new things and becoming a better person.  According to me life is all about fighting for your dreams, grabbing every single opportunity, learning and growing as a person.
Q. Would you like to share some uniquely saccharine moments of your childhood with us?
As a child I believed a lot in fairytales and miracles. Honestly, I still believe in them. When I was a kid, I always considered that I am really special and my life is going to be filled with miracles. I think this huge faith in myself and my life has made me a really positive person.
Q. Every great initiative branches off from a motivation, who was your role model behind stepping into the world of beauty pageants?
I do not have any particular role model but in general, I really admire all the beauty queens. I love the way all Miss India's have such regal personalities. Each one of them is beautiful from the inside. That's what makes them true 'queens'. My admiration for all beauty queens instigated a desire in me to become like them. This motivated me to join the world of beauty pageants.
Q. Who is your most loved beauty pageant winner till date, who has also inspired you to grow up as a beauty queen?
As I said before, I admire all the beauty queens and this has inspired me to grow up as a beauty queen. But, I do idolize Sushmita Sen the most. Somehow I can relate to her and I want to become like her.
Q. What would your Beauty with a Purpose Project highlight?
I want to highlight so many things as there are so many things I want to work on. I am already working in an NGO which focuses on many aspects of human welfare. But, I would like to focus on 'children's welfare' as my Beauty with Purpose Project.
Q. How are you preparing yourself for the Femina Miss India pageant?
I am working very hard for Miss India pageant as there are so many things I need to improve.  I am doing regular workouts and ramp walk training.  Also, I am preparing for the talent round and assembling a nice wardrobe. Along with this, I have already started making a base for my Beauty with Purpose project.
Q. Miss World pageants have immense level of assessments like, Beauty with a Purpose, Sports and Talent Round, how are you gearing yourself up for these challenges?
I am confident about the Beauty with Purpose and Talent round, though the sports round stresses me. Actually, I am not that great in sports but I am trying my best. That's why I am all the more focused about workouts and heavy exercises.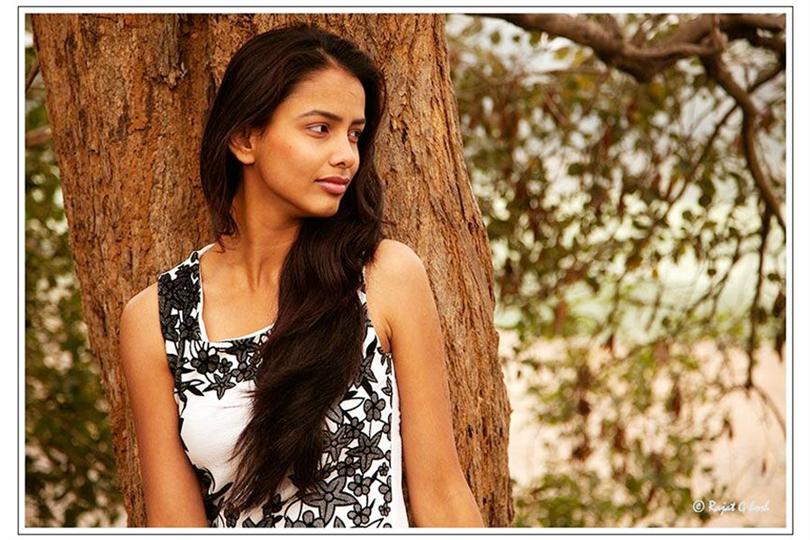 Q. Who was your biggest source of strength and support as you competed for the very coveted state pageant?
During the four days of the pageant, all of my co contestants were my source of strength. Whenever I felt low and disheartened I thought about all the other 13 girls who were in the same position as me and in the same circumstances they were working hard and fighting for the crown. I believed that if the rest of the girls can do it then even I can do it. Thus, I derived strength from them. Also, I derived support from all my friends, family and well wishers. And I am lucky I made some really great friends in the pageant who inspired me a lot and supported me all throughout the pageant.
Q. What according to you defines femininity? Who is the most treasured female figure in your life?
I think femininity is in being graceful, warm, charming and along with that showcasing strength in every aspect of your life. Femininity is in showing your emotions and in being very warm and soothing as a person. That's the beauty of being a female. My mom and sister are my two most treasured female figures.
Q. If you wish to write an autobiography, what would be its last sentence?
'All was well' (Because I believe it will be so).
Q. What according to you is the true essence of beauty?
Beauty comes from the inside. Beauty has different definitions all around the world. But I can only say that a person is beautiful when he or she believes himself to be beautiful. A person can only become 'beautiful' in its complete sense, if he or she is beautiful in every aspect of life, that is, beautiful in his thoughts, words, and intentions and in the soul.
Q. If not a beauty queen, what would you have aspired to be?
I am a law student so I would definitely want to become a great lawyer. But, I have another dream. I want to become an author. I hope I will be successful in achieving this dream.
Q. How do you balance your diet? What is your fitness regime?
I do a lot of workout so I believe in a healthy complete diet. I eat a lot of green vegetables and have eggs and milk for protein. My heavy workout demands a healthy diet so I never compromise with a balanced diet.
Q. If you had to change one thing in your past, what would it be and why?
I was an introvert in the past. I was very cautious about doing something new and hesitated a lot. I think had this thing not been present, I would have lived many of the previous moments of my life to the fullest and in a better way. But, I do not regret anything. I know all those things have added up to make me a better and more mature person. So, I would rather not change anything of my past.
Q. What message would you like to give to your fans on Angelopedia?
Firstly I would tell my fans 'thank you so much'! I derive my utmost strength from all the love and support I get from you all. I would tell them to believe in themselves. Nothing is impossible in this world. You just have to dream high and work hard to pursue those dreams. Because, the fact is that nothing comes easy in life. You need to work hard to achieve every single step. And, do not have any regrets in life, take chances and live your life to the fullest.