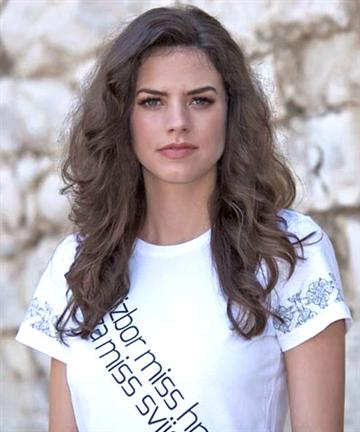 Nina Jelenkovic is the kind of beauty who exudes elegance, poise and allure, and is a true example of a beauty queen. This beautiful woman carries a bright beautiful smile and also has the much-needed attributes which can hypnotize you effortlessly. Nina Jelenkovic is not only a beautiful face, she is an owner of a vivacious personality, and is all set to clinch the crown of Miss Croatia World 2016.
In an interview with our correspondent, the marvelous beauty Nina Jelenkovic shared her thoughts, experiences, and aspirations in the world of pageantry. Below is the transcript of her interview-
Q.  How do you feel after becoming one of the finalists of Miss Croatia World 2016?
The feeling is great, I feel really special and honored to be part of such an amazing event!
Q. How are you preparing yourself for the Miss Croatia World pageant?
We had preparations for a week with a team of experts who helped us be prepared in the right way.
Q. Every great initiative branches off from a motivation, who was your role model behind stepping into the world of beauty pageants?
I don't really have a role model, it was more self-initiated.
Q. What according to you defines femininity? Who is the most treasured female figure in your life?
A strong and independent woman that can do anything they set their minds up to. In my life that's definitely my mother.
Q. Tell us something that most people don't know about you?
I really can't think of anything right now… I'm pretty much an open person…
Q. What do you like to do in your spare time? Any special interest or hobbies?
I like to train and hang out with my friends, watch movies and walk with my dog.
Q. What makes you a beautiful person (besides your 'killer' looks)?
I would say my personality.
Q. If you were invisible for a day, what all would you do?
I would just wander around and look what other people are doing, I would probably find someone I found really interesting and look how he/she spends their day.
Q. If you could define yourself with a "colour", what colour would you choose and why?
Blue, because it's the color of trust, peace and loyalty and also my favorite color.
Q. What is special and unique about being a Croatian woman?
Because each woman is different in its own way.
Q. If you wish to write an autobiography, what would be its last sentence?
To be continued…
Q. If you had to change one thing in your past, what would it be and why?
I wouldn't change much, I'm really satisfied with my life the way it is.
Q. Precious or Priceless? What would you choose and why?
Priceless, it feels like something special and unique.
Q. If not a beauty queen, what would you have aspired to be?
I always wanted to be a scientist that will make a change in the world, like finding a cure for some disease.
Q. What message would you like to give to your fans on Angelopedia?
Thank you for your support and just keep rockin !