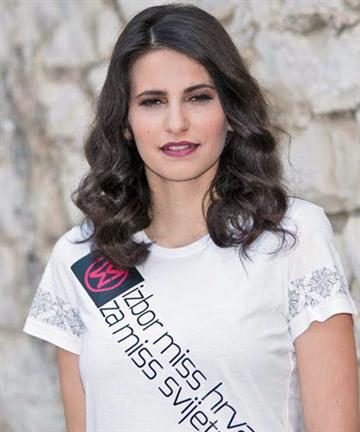 19 years old Sara Vukusic hails from Vidovac. The beauty queen is currently pursuing her graduation in Fashion Technology and is specializes in drawing. Her dream is to be a successful model. Sara Vukusic is not only a beautiful face, she is an owner of an effervescent personality. Sara is all set to clinch the crown of Miss Croatia World 2016.
In an interview with our correspondent, the sparkling beauty Sara Vukusic shared her thoughts, experiences, and aspirations in the world of pageantry. Below is the transcript of her interview –
Q.  How do you feel after becoming one of the finalists of Miss Croatia World 2016?
I am very happy and honored that got the opportunity to be a part of the Miss Croatia Team and meet all the contestants, mentors and organizers of this event. It was my true privilege to meet the girls from different counties in Croatia, share mutual experiences and meet the world of beauty, fashion, ambition and hard work.
Q. How are you preparing yourself for the Miss Croatia World pageant?
I am preparing for the Miss Croatia World pageant in a way that I am practicing the walk, preparing the choreography and discussing about the whole program.
Q. Every great initiative branches off from a motivation, who was your role model behind stepping into the world of beauty pageants?
My role model for entering the world of beauty competing is Anica Ex. Martinovic, now Kovac who achieved huge result at the Miss of the World competition.
Q. What according to you defines femininity? Who is the most treasured female figure in your life?
In my opinion femininity is defined by the sensitive characteristic which can be found in general look, behavior and the nature of a woman. The most treasured female in my life is my mother.
Q. Tell us something that most people don't know about you?
The thing that most people don't know about me is that I am very sociable person and huge fighter for peace and justice.
Q. What are your hobbies and interests?
In my spare time I like to hang out with my friends, family, boyfriend; I like to spend time in the nature, do the sports and dance a lot. I also play the piano. Generally, I like to explore new this and gain new experiences.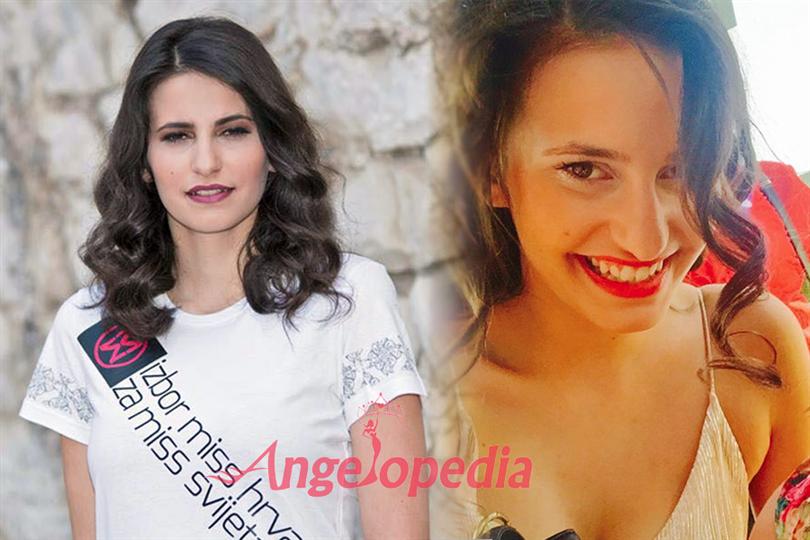 Q. What makes you a beautiful person (besides your 'killer' looks)?
I believe that my beauty lies in in my psychological characteristic such as my intelligence, self-confidence and good sense of humor.
Q. If you were invisible for a day, what all would you do?
If I would be invisible I would like to hear what others talk about me when I am not with them (or at least they think I am not).
Q. If you could define yourself with a "colour", what colour would you choose and why?
If I would have to define myself with a color, I would choose white color. White color represents the stability and pureness. It is considered the color of absolute perfection.
Q. What is special and unique about being a Croatian woman?
Croatian women are unique because of their special dominance and sensuality. Many other women in the world envy us because of this.
Q. If you wish to write an autobiography, what would be its last sentence?
If nobody hates you're doing something wrong.
Q. If you had to change one thing in your past, what would it be and why?
I would not change anything in my life, even I would have to. I really like my life the way it is.
Q. Precious or Priceless? What would you choose and why?
I would choose both. For example, there are items in my life that are not expensive in terms of value, but personally they are priceless. The reason is because I got them from very special and kind people to me or they simply remind me of some moments in my life that put a smile on my face over again. Additionally, in my life priceless are the people who are really close to my heart who can't be both by all money in this world that could make up their absence.
Q. If not a beauty queen, what would you have aspired to be?
Successful Model.
Q. What message would you like to give to your fans on Angelopedia?
I would strongly recommend to every girl to give it a try. Apart from amazing once in a lifetime adventure, you can learn many great and useful things through this competition, which can be used later on to develop yourself both personally and professionally.