It's been so long since we have heard from the reigning Miss Earth Katherine Espin. The busiest queen of 2016, Katherine spent her Easter Holiday relaxing at the beach. From travelling places to photoshoots to attending events to working for a cause to etc etc, Katherine has always kept herself busy throughout her reign. As per the last update, Katherine along with Angelia was scheduled to travel to Angola.
The two beauty queens are presently in Angola and recently they were at the ZAP Viva TV station for a guesting on the show Viva Trade with the Miss Earth Angola director Stiviandra Ribeiro de Oliveira. The two gorgeous ladies reached Angola on 20th of April, and will be there till the 24th of this month. During their media visit, the two beauties talked about their purpose of visit and also gave an insight on their advocacy as the earth warriors.
Also Read : Miss Slovakia 2017 contestants at Cape Verde for the title of Miss Congeniality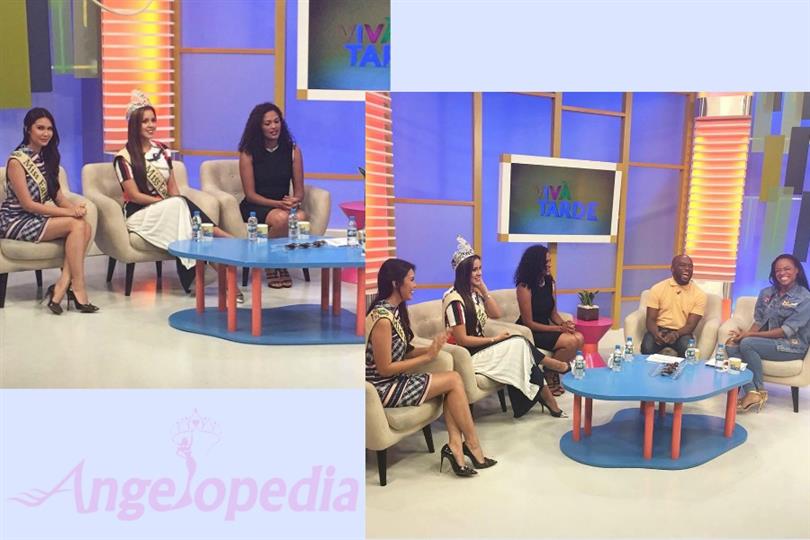 Katherine has always talked about working towards creating awareness on Climate Change. According to Katherine, people's interest plays an important role in this problem. In addition to raising awareness about climatic change, the beauty queen said she would also promote eco-tourism among big companies, and bring in to practice the five environmental Rs – reuse, reduce, recycle, rethink and respect.
Also Read : Stephanie Del Valle in Indonesia for Miss Indonesia 2017
Looks like the reigning Miss Earth Katherine Espin has found a new bff in Angelia Ong. Previously, Katherine Espin and Angelia Ong had a visit to the Senate of the Philippines, and had a conversation with the Management students from Columbia University. It was an initiative from the Earth warriors to teach the effects of Climate change to the students and inspire them to work their bit towards curbing it. The two also travelled to Hong Kong for a trip together.