The gorgeous winner of Miss Earth 2016, Katherine Espin has been busy in fulfilling her duties as Miss Earth 2016. She is one of our favourite beauty queens because of her gentleness, and determination to achieve all her goals. The stunner has been to various places to educate people about the importance of keeping our environment healthy. Recently, she visited the city of Ilagan, Isabela to distribute solar lamps to enlighten the lives of the community.
Also Read : Miss World Fiji 2017 contestants events and activities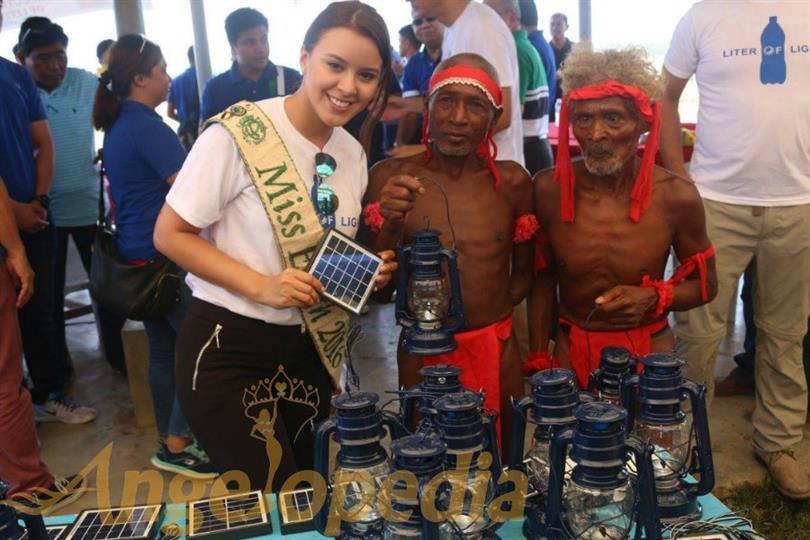 Katherine along with the Director of 'Liter Foundation' distributed 20 units of Solar Lamps to the community at Cabisera 10, city of Ilagan, Isabela. She was seen wearing a casual look and made the event special by her attendance. The people of the community were pleased receiving the solar lamps from the beauty queen and saw a light of hope in their lives. Espin is an inspiration for all the girls out there who want to accomplish their goals with utmost dedication and love for people.
With such a kind move with the help of the director of 'Liter Foundation' she manages to win hearts of many. The way she led the whole event with confidence and smile will always be remembered by the people of Isabela. She has something more interesting in order to save her environment as well. We are quite excited as well as inquisitive to know what she has in store to make the Mother Earth and the people happy.
Also Read : Miss Northern Ireland 2017 Bikini Photoshoot
Along with this, Katherine has always said, "People's interest plays an important role in the environmental problems." In addition to raising awareness about climatic change, the beauty queen said she would also promote eco-tourism among big companies in future. We wish her all the best for her future endeavors.