Ghana has successfully launched the 'Trash in bin Campaign' headed by the reigning Miss Earth Ghana Deborah Eyram Dodor with Miss Earth 2014 Jamie Herrell, Miss Earth Air 2016 Michelle Gommez, Miss Earth India 2016 Rashi Yadav, Miss Earth Bahamas 2016 Candisha Rolle, and Miss Earth Zambia 2016 Sharon Enkromelle Andrew. After the successful launch, it was now time for the beauties to implement the campaign.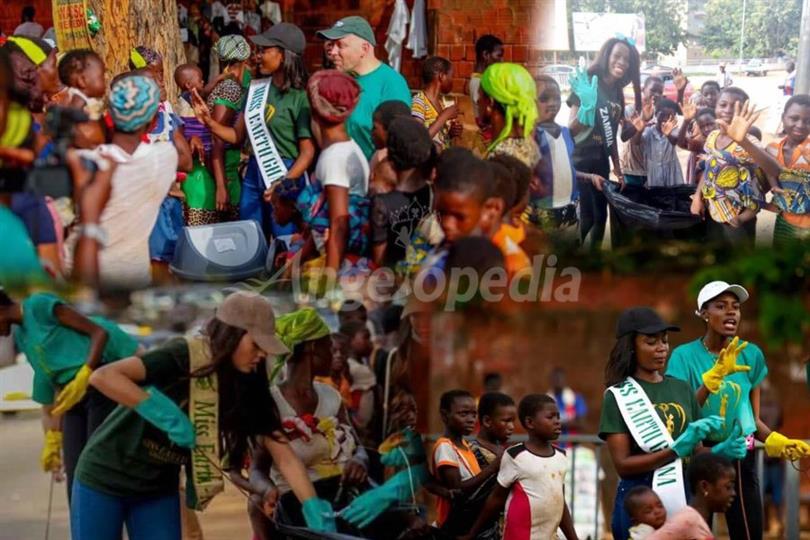 Also Read : Miss World Fiji 2017 to emphasize on issues affecting children
So, the Miss Earth stunners took to Ghana's street to spread the importance of waste management. The beauty queens informed the public about the importance of waste management, and also participated at community clean-up activities. Miss Earth Air 2016 Michelle Gomez and Miss Earth 2016 delegates from Lebanon, Zambia, Bahamas, England, India and, of course, Ghana, were in attendance.
'Trash In Bin Campaign' encourages people to develop the habit of putting their trash or rubbish in bins instead of littering the environment with it. "Trash in Bin" campaign is an initiative to keep the world clean by throwing the garbage in the bin and not just anywhere else. This brilliant initiative by the Miss Earth Ghana Organisation is a step towards accepting that there is a problem with Mother Earth and taking the rightful steps towards curbing it now is the only solution.
Apart from the touring and travelling, the girls also participated in a tree planting exercise at Kyebi in the Eastern Region with the Okyehene, Osagyefo Amotia Ofori Panin, and took the campaign to Ho at a durbar to be organised in their honour.
Miss Earth is an annual Beauty Pageant which is aimed at promoting Environmental Awareness. Carousel Productions organized and launched the first Miss Earth beauty pageant in 2001 to actively promote the preservation of the environment. Miss Earth is part of one of the Big Four International Pageants.  Miss Earth is one of the most unique kinds of a beauty pageant which promotes the idea of 'Beauty for a Cause'; all the contestants desiring to be crowned with the coveted title have to work for environmental and social causes and spread awareness.